Ziegler 4WT (4-Rad-gelenkt) Cutting unit carriage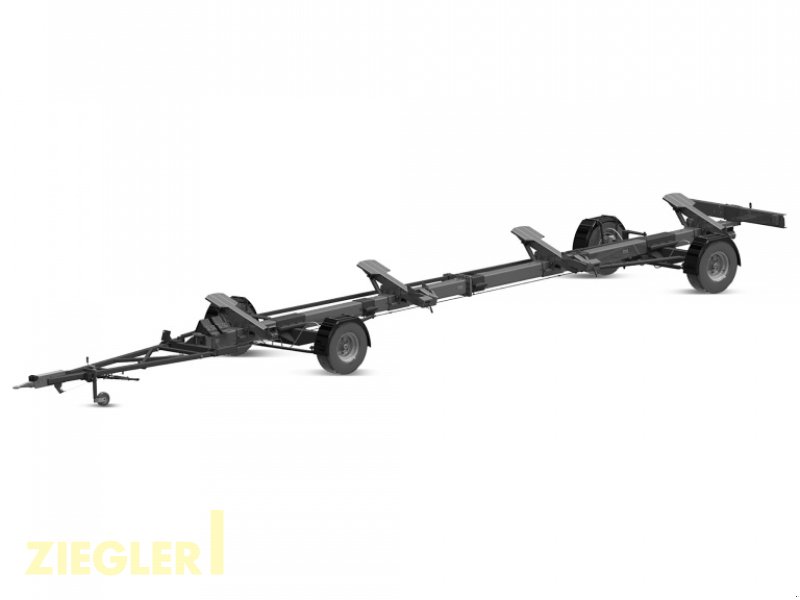 
QF No.: 6066094
Machines-
Location
Schrobenhausener Str. 74
DE-86554 Pöttmes

Condition
Neumaschine
Year of manuf.
2019
---
| | |
| --- | --- |
| Vendor | gewerblich |
| Machine type | Cutting unit carriage |
| Manufacturer | Ziegler |
| Model | 4WT (4-Rad-gelenkt) |
| Available from | immediately |
| Number of axles | 2 Stück |
| Hitch attachment |  |
---
Entdecken Sie die größte Modellauswahl an Schneidwerkswägen auf dem europäischen Markt. Verfügbar sind aktuell vier Basismodelle: 1-Achser, 2-Achser und 4-Rad-Lenker.

- Modelle für (fast) jedes Schneidwerk
- V-Verriegelungen zur einfacheren Schneidwerksablage
- Farbe passend zum Mähdrescher wählbar
- Feuerverzinkte Auflagen und Verriegelungen
- Flexible Rückleuchtenträger (Option: Rundumleuchte)
- Option: 40 km/h-Ausführung

Alle ZIEGLER-Schneidwerkswagen sind serienmäßig mit den vorgeschriebenen Beleuchtungseinrichtungen sowie Unterlegkeilen ausgestattet. Auflaufbremsen werden, außer bei 1-Achsern und Tandem-Wagen, standardmäßig verbaut. Der klappbare Leuchtenträger vermeidet Beschädigungen beim Ablegen und Aufnehmen des Schneidwerks. Serienmäßig statten wir unsere Wagen mit 10/75-15,3 Bereifung (14 PR) aus. TÜV-Datenblätter werden auf Anfrage von uns zur Verfügung gestellt.

Allg. Optionen für alle ZIEGLER Schneidwerkswagen:
Staukiste, technisches Datenblatt, Reflektor-Set, Seitenbeleuchtungsset, Rundumleuchte, Positionierungshilfe Schneidwerksablage, Bereifung 22 PR, Werkzeugkiste, Reserveradhalter mit Reifen, Magnetschild "Achtung: Fahrzeug schert aus" & "Achtung: Überlänge"

Das Herz des ZIEGLER 4WT ist die Achsschenkellösung, die eine höhere Stabilität in Kurvenfahrten und ein perfektes Nachlaufverhalten sichert. Zudem besteht keine Kollisionsgefahr der Reifen mit dem Schneidwerk. Der Wagen zeichnet sich durch hohe Tragfähigkeit aus. Geeignet für den Transport von großen und schweren Erntevorsätzen mit Arbeitsbreiten bis max. 12,5m hat der 4WT ein zulässiges Gesamtgewicht von 6 bzw. 7,2t. Dank frei verstellbaren Auflagen lässt sich dieses Modell an jedes gängige Schneidwerk und jeden gängigen Mähdrescher anpassen.

Zus. Optionen 4WT: 40 km/h-Ausführung, komplette Radabdeckung

Weitere Infos: www.ziegler-transport.com
---
Begonnen hatte alles vor mehr als 100 Jahren als kleiner Elektrohandel im bayerischen Pöttmes. Aus dem damaligen Einzelhandel ist heute ein moderner Global Player geworden – mit drei internationalen Standorten, über 600 Mitarbeitern und Vertriebspartnern auf jedem Kontinent. ZIEGLER ist heute Weltmarktführer für Rapserntetechnik. Zudem ist ZIEGLER sowohl OEM-Ausstatter als auch Auftragsfertiger für viele international bekannte Firmen. Unter den Marken ZIEGLER HARVESTING, ZIEGLER TRANSPORT und ZIEGLER CULTIVATION bietet ZIEGLER vom Schneidwerkswagen über Maispflücker, Sonnenblumenpflücker, Rapstische und Pick Ups bis hin zu Scheibeneggen, Grubbern und Gülletechnik.
/
It all started more than 100 years ago as small electronic store in Pöttmes, Bavaria. This former retail shop has now become a modern global player with three international sites and more than 600 employees and distribution partners on every continent.
ZIEGLER today is international market leader for rapeseed harvesting technology. Additionally, ZIEGLER is OEM provider as well as contract manufacturer for many international and well-known companies. With the brands ZIEGLER HARVESTING, ZIEGLER TRANSPORT und ZIEGLER CULTIVATION we offer header trailers, corn and sunflower headers, rapeseed tables, pick up systems, disc harrows, cultivators and LM tec.
---

Contact vendor
Contact person

Vendor
Ziegler GmbH
Seller information
Ziegler GmbH
Schrobenhausener Str. 74
DE-
86554
Pöttmes
VAT No.:
DE217741624
Seller's company information
Advertisements similar to Ziegler 4WT (4-Rad-gelenkt) in the category Cutting unit carriage